About us
The future IoT will place much higher demand and emphasis on the data rate, reliability and latency on wireless connections. If many IoT devices communicate in a confined space, the demand for radio frequencies will increase much faster than previously expected. With LiFi, ELIoT introduces a networked wireless communication technology operating in the previously unused light spectrum, besides WiFi and cellular radio.
As such, LiFi has many use cases for commercial, industrial or outdoor applications. It could function well in environments where certain radiofrequencies are not possible or allowed. For outdoor usage it could offer high bandwidth point-to-point links from rooftops, between lamp posts or to consumers' homes for our next generation networks. Higher network demands might come from software-controlled production, virtual and augmented reality and autonomous driving where LiFi could prove useful.
ELIoT has started in 2019 as a project funded by EUs biggest Research and Innovation programme, Horizon 2020. This programme promises more breakthroughs by taking great ideas from lab to the market. ELIoT receives €6 million funding from the Public-Private Partnership 'Photonics21' and is formed by the partners Signify (formerly Philips Lighting), Nokia, MaxLinear, Deutsche Telekom, KPN, Weidmüller, LightBee, the University of Oxford, Eindhoven Technical University and the two Fraunhofer Institutes; Heinrich Hertz Institute and FOKUS. Even more companies will shortly be added to the consortium as associated partners.
Contact
Fraunhofer-Institut für Nachrichtentechnik,
Heinrich-Hertz-Institut, HHI
Einsteinufer 37
10587 Berlin
Deutschland
Tel. +49 30 31002-0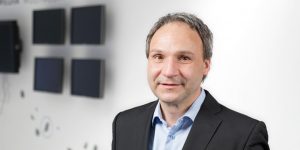 Dr. rer. nat. Volker Jungnickel
Position: Project Coordinator
Phone: +49 30 31002-768