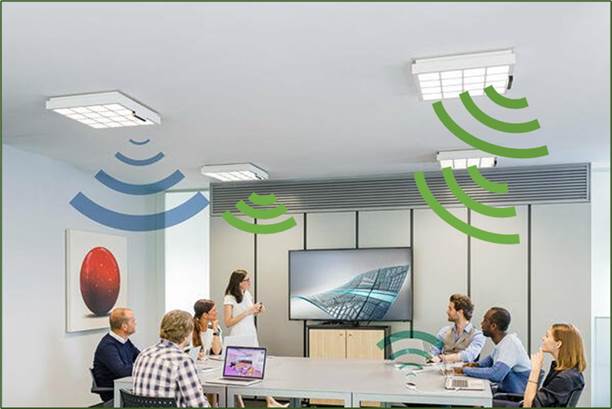 Fast and reliable data communication in office environments is often limited by crowded WiFi networks, due to the higher number of local and mobile devices. This is especially true for multi-tenant buildings. LiFi, integrated in the normal lighting infrastructure, solves this problem. In ELIoT, an office environment is equipped with LiFi, thereby offering mobility and an uninterrupted connection at high data rates.
Benefits for
the building owner
Secure data communication – no light no data leakage

Reliable data communication – stable data rate, regardless the number of users

Fast data communication – bigger files, cloud solutions and more online meetings require a fast and high quality connection

No disturbance of other (WiFi) networks, especially in multi-tenant buildings
Benefits for the office user
Faster and reliable data communication at the workplace anywhere in the office
Seamless handover when moving between ultra-dense (LiFi covered) to wider areas (5G covered)

Reuse the security features and AAA infrastructure of 5G in LiFi

Pave the way for introduction into smart phones
Challenges and technical opportunities
If you block the light, connectivity is gone. MIMO resolves this

– MIMO improves uniformity of data connection over the entire office space

– MIMO profiles can support uniform, uninterrupted connection,

Future LiFi chip sets can support MIMO signal processing optimized for LiFi

LiFi can provide a dense network of access points, but it requires a dense installation. New Plastic optical fibre front-hauling can simplify this.